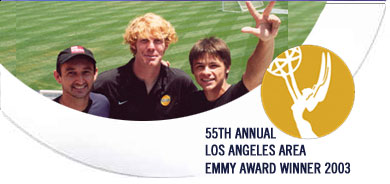 TESTIMONIALS


FOX SPORTS NET WEST

We appreciate your hard work, enthusiasm and efforts. Because of you, we continue to be successful in delivering quality sports programming.

Steve Simpson
Vice President/General Manager


TURNER SPORTS

Your work was helpful to our production for the Draft Preview Show and the NBA Draft. We appreciate you taking time aside from your job to provide us with your video highlights.

Kalen Wright
Associate Producer

Jeff Randolph
Production Assistant



MODA CAD

Out of all the locations for the ModaCAD's Fashion Trip Launch Video, your crew was the best and the LA/Orange County footage - the most dynamic. It was a privilege working with someone who really knows what he is doing!

Ariella Levitan
Manager/Event Marketing


Nik Stanjevich is an experienced camera operator and seasoned producer. He is also a recent Emmy award winner in the Feature Segment category for a sports special documentary on BEN ANTHONY (2002 SPECIAL OLYMPICS SOUTHERN CALIFORNIA SUMMER GAMES) - Fox Sports Network

His range of experience reaches from sports and news to industrial and corporate videos. Producing industrial videos, re-enactments for crime shows, live sports, interviews, weekly basketball review shows, infomercials and commercials. His clients have included the City of Whittier, Westco Marketing, Spectrum Media, City of Lakewood, UTV, CSULB, CSU, ETN and Foster Higgins, to name a few.

He is familiar with shouldering the responsibility for "below the line" budgets and directing full support crews. This experience comes from being an operator himself in both films and video. These projects have ranges from ENG sports and news, to EFP industrials, features, documentaries, shorts, commercials and exercise videos. Clients have included; USA, TVG, UFC, TNT, TBS, ESPN, ESPN2, C-SPAN, CNN, CTV, NFL NETWORK, 'This week in baseball', MLB, Thoroughbred World, AVP, FLW, Prime Ticket, ABC, and Monday Night Football.

Other than the standard equipment, he is also proficient as a steadicam operator, Jimmy Jib, Tulip crane, numerous types of dollies, car-mounts and can provide camera packages that include entire crews and associated gear for both film and video projects of any size.

Demo reels and references are available upon request.